Topic:

Lowburn Collie Dog Club
Topic type:
In January 2014 the Lowburn Collie Dog Club held their 100th competition. A commemorative booklet was produced including memoirs from key families involved with the Club. This entry represents the booklet. Thanks very much to Claire Davis for providing the information.
OFFICIALS 2014
Patron. Richard Anderson
President. Peter Morton
Vice President. Jack Davis
Secretary. Claire Davis
Assistant Secretary. Duncan Henderson
Treasurer. Joyce Brown
COMMITTEE.
R Anderson, M MacMillan, J MacMillan, S MacMillan, P Morton, G Brown, D Henderson,
M Pittaway, J Davis, D Smith, T Pinckney, J Clark, H McKnight, B Morton,
R Perriam, A Hamilton, K Lake, B Cornish, D Eason, J Guise. C Davis, J Brown.
LIFE MEMBERS.
Richard Anderson, Murray MacMillan, Jackie MacMillan, Duncan Henderson,
Keith Lake, Geoff Brown, Jack Davis, Claire Davis, Peter Morton.
It is interesting to compare the names of the committees of yesteryear
Anderson, Henderson, Wood, Spratt, McFelin, McElroy, Cooper, Middleton, Partridge,
Perriam, Clark, Paterson, Brown, McMillan, Swann,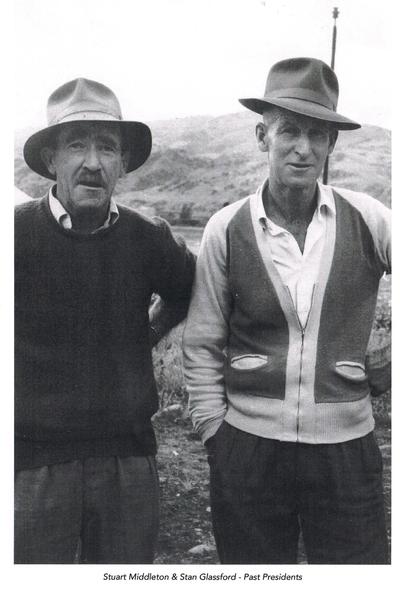 by COMB
TRIALS HISTORY COLOURFUL.

Lowburn has had a colourful history. Although early records have been lost, it would seem interest in forming such an organisation came from a heated debate between the local run holders and musterers at the Lowburn hotel. The report in the Cromwell Argus 12th October 1914 reads:
"A meeting of the Lowburn Collie Club was held in the 'Welcome Home Hotel' on Saturday evening last. Mr D S Middleton presiding. There was a large attendance of enthusiastic members and the subscription list gave promise of substantial support. It was decided to hold a trial in March 1915, exact date not being fixed as the club is desirest of making the date fit in with the dates of the Upper Clutha and Nevis Clubs. The rules of the Upper Clutha Club were adopted with slight alterations, and a committee was selected to select the trial ground. A meeting will be held in Jan 1915 when the programme etc will be arranged. Altogether the club promises to be a successful one"
The earliest 'trials' were held on the land behind the Hotel in 1915. In the early years, the club meetings were held in the Lowburn Hotel and the publican was made patron, this tradition being continued for many years. Later meetings were held in the Lowburn hall as members increased.

By 1916 a committee of Messrs Middleton, Anderson, McKay, Henderson, McFelin, Mair and Wood, Grant, Spratt, and McNamara had formed. And trials were held over two days in March. The course used was at the south end of the sugar loaf. In the evenings it was customary for everyone to meet at the Lowburn Hall for a dance.
1920 Changes were being made to existing events and new events were added. One was the Ladies Bracelet, another the farmers class for dogs that had never won more than one guinea.

In 1924 club members organised concerts, social evenings and dances to raise much needed funds. During the depression the club declined in size, and by 1931 they stopped holdings the trials

It was 1935 before they were restarted, and the club joined the Otago Provincial Sheep Dog Association. Over the World War 11 period, with several members overseas, the trials were reduced to one day in an effort to keep the club going. However in 1942 they had to be postponed altogether. Two years later trials were held again, with the proceed of 33 pound being given to the Lowburn Ladies Guild for soldiers parcels.
In 1946 Wanaka and Tarras became sister clubs, in an effort to gain more conformity within Otago Clubs. By 1947 the club decided to move from the south end of the Sugar Loaf to the centre to improve the grounds by putting in new runs. The trial date was changed to December, a more convenient time for competitors. In 1948 a fourth event was added for huntaways, run on the same course as the zig zag.

After the wool boom in 1951, the farming. sector was eased financially, and the popularity of trials grew. The Wakatipu club became a sister organisation, and the four clubs, Wanaka, Tarras, Wakatipu and Lowburn hosted the Otago Championships the following year, with each club looking after a course.

In 1954 the dog trials became a three day event. A telephone system was installed to help run events. The Otago championships were held at Lowburn in April of that year.

A booth, quickly dubbed as 'Charlie's Bar' was erected on the east side of the grounds in 1962. The provision of such a facility became necessary when in warmer weather it was difficult to keep dog owners on the ground. Often stewards sent to the pub to retrieve them failed to return as well. Class II was improved by the addition of a drive and yard. In class I, the strait pull was changed to an angle pull down the hill.

In 1964, Still more members meant a bigger cook shop. As with Charlie's bar this was built on the east side of the road. The old cook shop was moved over to be a shelter for class II.
In 1969 a fourth ground was added at the North end of the Sugar Loaf to cope with the increasing number of competitors. The South Island championships were held at Lowburn the same year and the club earned the reputation of having the best grounds in New Zealand.
The annual national championships are held alternately in the North and South Islands. The Lowburn ground is one of five South Island venues able to host the NZ and South Island championships. The Lowburn club has held South Island championships in 1969, 1977, and 1987. And NZ and South Island. Combined in 1962, 1972, 1982, and 2002.
Over the years with National Championships and increased numbers the Cook shop, secretary's office and bar have increased in size and been improved.
The Club had changes made again in 1988 when work began on the Clyde dam and the headquarters had to be moved further north where a new cook shop and bar were built.
The best event III course in NZ was lost and a new course made at the far north end of the Sugar Loaf. This was again disrupted in 2008 with new development on the Sugar Loaf which effected our courses once more and the cancelation of our trials for that year.
Cook shop,

The Lowburn Cook Shop has always had a good name for great meals. It was run by the farmer's wives and the wife of the president was in charge of the organisation.
The early names were, Mesdames, Mavis Middleton, Radford, Mary Brown, Purser, Joyce Webb, Mabel Jolly, McMillan, Nellie McLean, Winnie Glassford, Noelene King, Lil Henderson, Fay Norrish. Money raised in those days went to improving facilities. A dance was held in the Lowburn hall on Saturday night, the ladies of the day supplied supper.
The building used for the Cook shop was an old school play shed. It was an open-sided wooden building where the ladies cooked on two large old coal ranges with a copper outside for hot water which was kept stoked up by the men, like Wally Higgan.
Fay Norrish recalls when as a child the cook shop had a visit from Lady Sidey and a great fuss was made in preparation.
Things haven't changed much over time. The meat, cold legs of mutton, always supplied by those with farms. And scones cakes salads, verges cooked and served by at least 6 helpers.
Webb's Orchard supplied fruit for the tables.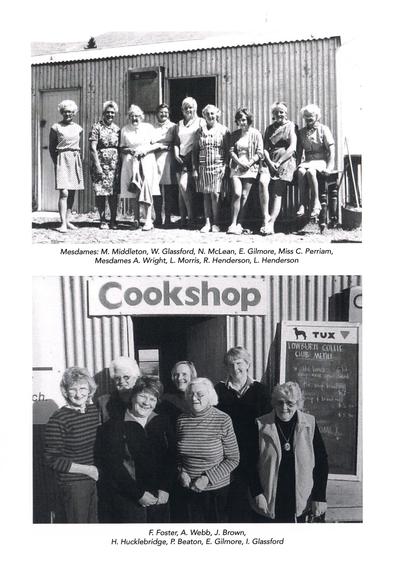 by COMB
Charlie's Bar always supplied liquid refreshments for the ladies.
Organiser of the day had a book to follow which was the bible for the catering. When there were more farms around each area had a day, like Bannockburn, being Marcia McElroy, and daughters, Julie, Lisa and Ann, Rae Henderson, ( The young ones sat outside and peeled the potatoes) Lil Henderson, Wanaka Road, Ray Brown, Joyce Brown, Liz Brown, Bet Pittaway, Eunice McMillan, Jackie MacMillan, Aileen Stalker, Christine Scott, Heather Perriam, Winnie Aitken.
And Lowburn, Joan Lake, Janet Cochrane, Cecil Cromb, Iola Glassford, Ann Lake, Claire Davis, Marie Morton,
These days there is not the women available to help with the cook shop and the local Rural women have taken on the job for us, continuing with the high standard of service.
Dog Trial Grounds
Records show the first trials were held in 1915 on the commonage behind the Lowburn hotel after musterers and run holders spent many hours in the hotel "discussing" who had the best dogs. The venue for later trials soon moved onto a larger site at southern end of Sugarloaf that would have been known as the Partridge family property. With no club facilities available until many years after this, the hotel continued as the meeting place with the publican being made first patron.
The Lowburn Hall would have been close by and used to support the trials in the early years and also became the venue for successful concerts, dances, and social evenings arranged by the club to raise money.
Three courses were used initially until they were moved from the south end of Sugarloaf to the centre in 1947. There is first reference to the Lowburn trails held on Henry (Harry) Perriam' property in 1924 but it is not until all courses shifting that Lowburn Dog trial grounds became the site as we know it today. The Perriam family owned the property of the Trail grounds from this point through until 2006.
In 1951 the club acquired the Bannockburn Bowling club pavilion (originally the first school play hut). It was erected on the west side of the road and a kitchen added to cater for competitors and workers involved.
At this time one hundred pine trees were planted at the south end of the grounds against the Perriam/Partridge boundary fence. These were for a wind break but also helped hold soil from blowing away after rabbits made the ground baron.
Charlie's bar was added in 1962 and a bigger cook shop was added in 1964.
A forth ground was added in 1969 to accommodate two hunt courses further north. A Private telephone line had been installed in 1954 and was extended for these course's, to improve communications between the grounds in a move to keep events running smoothly. Lowburn Valley identity, Wally Higgan was the man for this task which led to much amusement how members used or abused the new technology.
The late 1970,s saw a time of biggest uncertainty for the club and grounds further. The MOW were totally committed to purchasing all land needed for the construction of Clyde Dam and flooding involved with Lake Dunstan. Original MOW plans involved a new highway constructed against the base of Sugarloaf for most of the length of the flats where the Trial grounds are. This really upset our stalwart members at the time facing the threat of losing all grounds. A concerted effort was made to showcase the Lowburn Grounds as amongst the best in NZ which also lead to the timely awarding of the South Island and NZ Championships to Lowburn in 1982 that successfully proved this point. Adding to this pressure on MOW, landowner C R Perriam was refusing to negotiate further on land purchase dealings until the Lowburn Collie club needs were met. Fresh plans were adopted showing the highway alignment moved away from the toe of Sugarloaf to the point it is today with massive earthworks needed to raise the land levels between the new highway and the hill. This enabled the Trial ground to continue with only the bottle Zig Zag Hunt coarse shifting to the northern end where plenty of room available there. All the Lowburn CC facilities were first seen to have no legal rights but Charlie fought to give them protection and full relocation of the clubs facilities were insisted upon in 1986 -88 period onto the current site from the previous site now under water.
The club was settled for long period after this until Wakefield farm was sold to developers mainly for residential lakefront housing. New owners David Robertson and partners did need to dump large volumes of soil to create a Marina inlet at the base of Sugarloaf where the straight hunt is but this was placed in such a way you struggle to recognise this now and the courses can continue as normal. Dave also came from a Southland farming background and quickly realised the significance our club was in the community.
Within his negotiations with council to enable a desirable subdivision to proceed, Dave voluntarily offered the entire face and lower flats of Sugarloaf ownership to be vested to Central Otago District Council as a scenic reserve which in effect secures these treasured Trial grounds forever.
We should pay tribute to the huge amount of voluntary man hours gone into helping maintain these grounds over the years from rabbit and brier control, tree planting, fencing and yards for trial sheep, to building and maintaining facilities for competitors comfort.
Bob Perriam.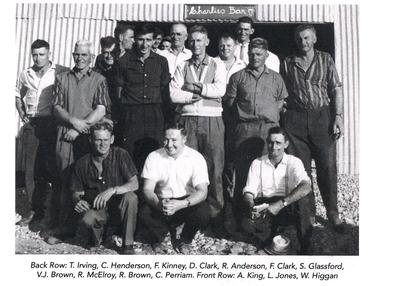 by COMB
Charlie's Bar
From the early 1950's, Lowburn Collie Clubs annual trials grew to 3 days in late January. This in turn led to a new problem of competitors sheltering from the hot and thirsty weather 2 Km down the road at Lowburn Ferry Hotel while Club stewards sent to retrieve these competitors often failed to return themselves.
It was decided in 1962 to establish a booth on the grounds to beat this disruptive habit. It was dubbed Charlie's Bar in honour of Charlie Perriam who offered to take on this new position. The original Bar was a modest Barn style shed with fittings donated from many sources. It was situated on the East side of Wanaka Road but much further South than the current location. In 1981 it was decided to double the size of the bar to carter for our growing club membership and an influx of competitors expected for the 1982 NZ Championship. A large marquee was also added in front for the June championships trials.
In 1987 the MOW agreed to relocate the Bar and Cookshop to its current allevated site. Charlie also took the opportunity to make improvements at this time including purchasing the old bar from the Bottom Pub in Cromwell and installing this unique curved bar in place today. The current site of all our club facilities is built up to highway level due to lower surrounding lakeside land within a potential flooding zone from Clyde Dam operations..
Charlie stayed in charge until passing responsibilities onto son Bob in 1995. Jackie MacMillan along with Murray took charge 2004 -08 with Bob and daughter Sarah as host position through until today.
Richard Anderson
As I have seen it: Secretary to Patron
I first became involved with the Lowburn Collie Dog Club at a Special Meeting 4th of July 1961 to discuss the running of the New Zealand and South Island trials to be held at Lowburn in June 1962, which no doubt was a success, as we found our committee had to repeat this occasion 1972, 1982 and 2002, plus also having the responsibility of Otago Centre, and South Island trials on other occasions.
For me that is 53 years as a member, half of its life time, so may I take this opportunity to congratulate the club on a job well done in achieving 100 years
Although the trials ran over three days the entry numbers were never great until the local trial run in January 31st, February 1st and 2nd. Prior to the champs in 1962, the club received 100 entries per event in Tom Clark's words we will never see that again but we continued to do so for many years to follow.
I can still remember when the finals were run. So many onlookers turned up we had to cut the fence at the Lowburn end to accommodate the cars for the finals.
On the 3rd May prior to June, Bill Hazlett and Wattie Wilson, New Zealand councillors both inspected grounds and ran a dog each on both heading grounds and were very pleased with the result. As for the weather, the drums were in use all week so a lot of firewood required, plus fog at times, I was appointed secretary December 1963 and remained so until 31st October 1974, my biggest challenge would be the 1972 New Zealand Trials. There were many changes in those years, such as the establishment of "Charlie's Bar", the changing of courses, the shifting of buildings to accommodate the hydro developments as we now had a new highway to deal with.
To me, in those early days most things seemed to be left to the secretary although I did have some very helpful members to fall back on to. Such as Bill Brown, Russell Brown, Stuart Middleton, Stan Glassford, "chairman" Colin Henderson, Alex King "Chairman", Charlie Perriam, Grant McMillan, Baden Partridge and Wally Higgins. Also those in residence on Wanaka Rd from Lowburn to Queensbury as I required clerks and liberators. Plus the Cromwell High School. In those days I never seemed to be turned down.
Even the local exchange, as we were on party lines, such as Isla Glassford and Les Ritchie, two of many operators. A special thanks to Les as I had the job to erect an advertising sign re the New Zealand Trial 1972 at what was known as the hospital corner, only to realise that while digging the post hole I had in fact cut through a phone cable, and being a Sunday didn't help. Rushed to the exchange, Les being in charge told him what had happened, he checked a number of lines, was unable to find any faults, just go and put the sign up which I did and to this day have never found out what the cable was for.
Canvassing
Always on a Friday at 2pm in Cromwell as it was then, parking vertical at the top hotel known as the Vic, we walked down the right of the street to the bridge, back up the left and after having a couple at each hotel, which included the "bottom" known as the commercial and the "middle" known as the golden age, then retreating to the Glassford home at the end, to count our takings. On one occasion, Tom Clark saying he needed to head away as he was to be at the Brown's Lowburn Valley for early breakfast, Stan saying you had better have another whisky before you go which he did, we found out later that Tom didn't quite make breakfast but had arrived only to fall asleep on the ground beside his vehicle.
"Charlie's Bar". A great success for the club, except on one occasion the licenses had not arrived in time when a relieving constable turned up and closed us down, saying it was the secretary's responsibility and it would be me who would be charged.
A special mention to those who supplied sheep over that time, Bill Brown, Lowburn Valley, Stuart Middleton, Northburn, McMillan's, Mt Pisa, "note" the way that McMillan is spelt and is shown in the minutes over many years is now MacMillan. Murray Mac, says no it's the correct way now. Kawerau did supply Corridale ewes for a yarding event at Otago Trials only to be told by the chairman that they were uneducated sheep as very few yarded them.
Also the ladies need mention for the supplying of food, for all the local trials under extreme conditions in those early years with coppers for hot water and the original cook shop was only an open wooden building.
To finish off I would like to mention some of the trialists that supported out club over my time as secretary; Bill Hazlet (Key), Ian Anderson, Fred Panting, George Innis, Bill Kerrigan, (Omarama), Bob Wilson (Kerrwee), Ron Christie (Gore), Ray and Bill Lott (Kingston) and many other locals who would have a tale or two to tell. Such as Bill Anderson (Tarras), who owned the Tarras Taxis? who would arrive with a car full of young Tarras "lads" to compete and all the dogs in the boot of the taxi, he was fortunate it was a big car. So that's more than enough for me, pleased to have been part of Lowburn's history.
Brian King
From as far back as a school boy going to Queensberry school I remember My Father (Alec) always putting his all into the collie club. As the trials were always held at the end of Jan. it was always very hot. He would be gone by 4 30 in the morning and would not see him again until all hours of the night. I remember helping sort up the sheep at Mt.Pisa and driving them down the main road to Perriams yards where they split them into mobs for the various events for the next couple of days.
I can remember him coming home one night from a meeting at the Lowburn pub and telling my mother that Lowburn had been given the South. Island and NZ Dog trial championships. They were held I think in May 1962.That was huge for a small club like Lowburn. That put the Lowburn Collie Club on the map and was hailed as one of the best trial grounds in NZ. This led to Lowburn getting the South. Island champs. In 1969 and the NZ champs. Again in 72, 82 and 2002.
I remember the working bees that led up to that first NZ champs. Dad lost his prize crow bar and always blamed Gordon Lucas for taking it home.
Some of the old competitors were very staunch whisky drinkers and I can recall my Father saying that no one would drink Wilsons whisky so he took all the Wilsons whisky and poured it into Jonny Walker bottles and sold the lot with no complaints.
As a school boy back in the sixties liberating the sheep was something I looked forward to. With the trials always at the end of Jan it was still school holiday time. Can't remember how much we got paid but certainly looked forward to the money. I have never forgotten once when I think Bill deBettincor and I were liberating on the long pull. Bill Hazlett was running a dog called Geordie We were shit scared of him as he could be a grumpy old bastard. Any way on this particular day he had a pretty good run and when we came down for lunch he spotted us and said, I want to see you boys. Bloody hell we were shaking in our boots as we had heard he could be quite nasty to liberators if he got bad sheep. Anyway instead he gave us one pound each for giving him 3 good sheep. That put a smile on our face.
Many a time when the Lowburn pub was still operating someone would have to go down and find a competitor .They would disappear because it was so hot and did not want to run their dogs in the heat. On one occasion I remember someone running their dog. They were so drunk he needed someone else to hold him up and still managed a very good run. Cannot remember who it was.
After the trials, taking the weathers out to Pisa Stations back block was another thing I enjoyed. The sheep would be yarded up at VJ Browns for us, and on horseback we would drive them out to Pisa Stations back block. where they would spend the summer
.
Duncan Henderson
My first memories of the Lowburn Collie Club was being at the cook shop with my mother Lillian Henderson in the early 1950s. The cook shop was an old wooden building painted red on the west side of the main road. It had old coppers to heat water and coal range to cook on. I can remember Mrs Brown ( Bill Browns wife from Lowburn Station) being there, every time I was there she was there. I always thought that was where she lived.
The heading course was out in front of the cook shop. The release pen was on top of the Sugar Loaf face, sheep were pulled down the face onto the flat and into a small yard out from the cook shop, and there was no drive or hurdles to go through like now. I cannot remember if the long pull and hold in ring was there too, but I am pretty certain it was. The huntaway course was south of the cook shop closer to Lowburn. The straight and zigzag hunts were held on the same course. My father ( Colin Henderson ) ran the hunts. I can remember Dad, Stan Glassford, Alec King and other members carting out wooden gates that were stored in a small tin hut on the grounds, to make a yard to hold the release sheep and then putting scrim around the yard to stop dogs frightening the sheep. I am not sure when I started liberating but I was not very old, I can remember it being very hot and sitting under the scrim to get some shade and being given a large bottle of lemonade which was always warm. And at the end of the trials going to see the secretary, who at that time was Tom Clark and getting paid two pound a day for liberating.
I think the courses stayed the same way until about 1962 when Lowburn hosted the South Island and New Zealand trials.
Bill Hazlett from Mararoa Station near Te Anau in Southland must have been on the New Zealand Council because he helped Lowburn set up new heading courses. He sent up his bulldozer and driver to bench and cut tracks to put new release and holding pens three quarters of the way up the Sugar Loaf face, these pens are still used today.
I. like most members over the years held all positions in the club from President, ground steward, sheep Shepherd, judge's clerk, treasurer / secretary, assistant secretary and life member. It was while secretary I asked Herb Pittaway to be a judges clerk. Herb accepted the job and did it for quite a few years. After the first year he arrived with his own score cards which he had made up, he had made five separate columns to put the total points in for each class in the four events. The judge's clerk filled out columns which the competitors had entered, this was a great help to the secretaries when working out the results. The Lowburn Club started getting their own cards printed using Herbs idea, the Otago Centre took up on the idea too and now I think it is common through out New Zealand.
In 1972 Lowburn held the South Island and New Zealand Trials, Dad and I were sheep stewards and on the Sunday after the trials finished we helped take sheep back to Stuart Middletons Northburn station. When we put the sheep into their paddock Stuart asked us up for a whiskey, as we went up to the old stone homestead it started to snow. It was a great feeling sitting in front of a roaring open fire getting warm drinking whiskey watching snow falling outside knowing that the trials were finished and the job was done successfully.
Brown Family
The Brown Family have had a long association with the Lowburn Collie Dog Club, contributing in preparing and running the trials.
JWD (Bill) Brown was President for 19 years 1946 – 62
Life Member 1963
His wife Mary organised the catering during his years as President.
Mary was Patron 1966 – 87
Sons
Russell was on the committee Life Member 1977
Vincent (V J) Brown was barman in Charlies Bar for many years and helped Charlie Perriam to set this bar up.
Grandsons
Brian Challis, Robert Brown and Geoffrey Brown have all taken part. Geof President 1980-82 Life Member 2004
Doug Brown Geof's son was President 2004 -06
The ladies have all been involved with the catering, Ray, Elizabeth, Joyce, Sandy Brown, & Faye Norrish.
Faye also helped in the bar for special events.
I have memories of the ladies cooking on coal ranges outside and serving the food in what was a school play shed. It was open on one side. The ranges were later built into the cookshop. Money raised by catering went towards improving facilities.
In those early days a dance was held on the Saturday night in the Lowburn Hall, the ladies of the day also served supper.
Faye Norrish
Taking sheep to Lowburn
For many years I would pick up the nicely sorted Pisa wethers by the woolshed about 3 or 4pm and walk behind them to a paddock at Perriams ready for an early morning pick up to go around the grounds.
Dad Russell went in front in his Landrover and shut the gates where there were some, and man could those Pisa wethers bolt if they thought an open gate led to the way home.
W R Brown (Russell) Pipe smoker
Dad was running his old bitch Lass on one of the hunts many years ago. Between puffs on his pipe and just enjoying the trials as he always did, when he thought hell Lass is going ok and automatically dropped the pipe in his pocket. Lass almost had the 3 sheep through the top flags when his pocket erupted in flames. He started furiously slapping, jumping and swearing. Lass headed the sheep and had them halfway back much to the delight of everyone.
Geof Brown
Perriam Family
John and Charlotte Perriam were the first family settlers to this area emigrating from Exeter, Devon, England in 1858. They originally established gold claims at Quartz Reef, Bendigo for a number of years. They shifted to Lowburn in 1865 and went onto building the first Lowburn hotel opening in 1867. They were very active in the community with establishing the first punt across the Clutha River which lead to linking the hotel name as Lowburn Ferry Hotel. The entrepreneurial Perriam's established other successful ventures such as the local store and butchers shop that supplied the early gold miners and run holders alike. John died in 1883 but Charlotte continued operating the hotel until her death in 1907. The concept of needing a dog trial was born at the Lowburn ferry hotel prior to 1914 to determine the merits of which run holders or musterers dog were the best in this area.
William Perriam also emigrated from Devon and first purchased 317 areas of Wakefield farm in 1884. The farm was directly north of Lowburn between the highway and the Clutha River and later became home to the Lowburn CC buildings to facilitate the Dog trials. William ( Old Uncle Bill) did not marry or have children and willed the farm upon his death in 1904 onto his Brother, Charles, who was farming and mining in the Gibbston area at this time. Wakefield farm was passed onto Charles son Henry Perriam in 1918 whom had moved to Lowburn to work this property before this time.
Wakefield did not originally include the Sugarloaf leasehold land titles which was then held by the neighbouring Clark family. Through rabbit infestation, drought and depression years saw the Clarks give the sugarloaf lease away to consolidate their property further west. The Sugarloaf lease was taken up by Henry Perriam soon after mainly to pursue the gold mining opportunities more than a farming land use. There is a Lowburn CC acknowledgement as early as 1924 to property of Henry Perriam but this may have only be for one course at this time.
It is difficult to detect a Perriam family member involved with the establishment of Lowburn Collie Dog club in 1914 but we can be sure there were family members involved thru the early years of this club as they were with all Lowburn sporting teams at this time.
Henry Perriam Senior died in 1946 and survived by his 2 sons, Harry and our father Charlie. Wakefield Farm was passed onto his widow Marry Ellen Christina Perriam (nee Foster)
Harry and Charlie jointly farmed this property with their farther and for several years later with their mother as Perriam Brothers Partnership, in which time all Lowburn CC courses were moved into their property in 1947. Charlie soon after purchased the Neighbouring Rahoy Farm further north, and at a similar time Harry purchased a small farm adjacent the Lowburn Ferry Hotel to establish an intensive market garden and orchard business. Harry did not actively compete or have much involvement but was always generous to donate quality fruit and produce to the club trials.
Oldest son John farmed in partnership with Charlie from mid-1960 until 1978 and purchased the Wakefield Farm from MCE (Tottie) Perriam in 1970.
The Ministry of Works enforced purchase of all the lower river flats land at this time to be inundated by Lake Dunstan with the completion of the new Clyde dam. John then went onto purchase Bendigo Station in partnership with his wife Heather in 1978 making way for youngest son Bob to make a start farming in partnership with Charlie and leasing back the MOW river flats until they were flooded. The period 1955 – 1985 saw the most active Perriam involvement within the Club. Charlie had some very handy dogs but did not pursue other trials much. One of his proudest moments was to join with Stan Glassford to represent Lowburn CC in the team event at the Otago trials held at Lowburn that year. CR (Charlie) said Stan has such good dogs at the time that all he had to do was turn up with his handy huntaway and complete the event which he did, and they won the prestigious Top Club trophy that year. CR was much better known for support of the Trials on his property and he was instrumental in providing all the facilities that supported the club members and competitors.
He established the first club bar in 1968 named Charlies bar after him and had his final farewell here too upon his death in 2008. (See feature for further details on Charlie Bar).
John was an active member for 15 years before moving to Bendigo and joining our sister club Tarras in which he and his sons Daniel and Stuart are still involved today. A special time that John remembered was an outstanding run he was having in the yarding event with heading dog King. He believed the judge would not have a point off by the time they got to the yard on a sweltering hot January afternoon. King then decided he had done his job and left John to it while proceeding the nearest dredge pond for a well earned drink...
Sister Charlotte was also active in supporting the club with many years working the cook shop and helping CR with the bar. She married Trevor Heaney who was Secretary for many years and they farmed at Lowburn until moving in 1990.
Bob was always keen to help CR about the bar from a very young age. I became fascinated with the culture of Dog Trailing and eager to learn from club stalwarts Tom Gilmore and "Tops" Henderson. On returning home from boarding school I purchase 2 well-bred pups from locals that became the foundation of much joy about the mustering and Dog Trial circuit. Heading bitch Lou came from Jack Davis's father and their Dick line of dogs while Guy coming from Geoff Browns father, Russell, and their Sharp line of Smithfield Huntaways. Lou qualified for the 1982 NZ Champs at Lowburn at only 2 year old, which was a special fete on our home grounds. She went on to win many open events and Otago Top dog for a few years. Guy was equally gifted with ability to place sheep 'on a sixpence' but many judges preferred the big North Island Dogs to win opens. They both still lie in graves on the small terrace besides the straight hunt course, watching over proceedings. During this period I also judged most trials throughout Otago, Southland and North Otago before moving to Silverpeaks station in 1985 with wife Bronwyn who was also club treasurer for a few years also. I returned to Wakefield farm in 1993 and continued as club member ( president 1998 -2000) through to now working with daughter Sarah to host Charlie's bar.
Bob Perriam
Murray MacMillian
Mt Pisa Station supplied sheep for the Lowburn Dog Trials since they began in 1914.
The wethers were used and were driven down the highway and let go in the Lowburn Creek and mustered each morning which was quite a big job and then taken to the grounds. After the trials were finished they were driven up to Lowburn Station then next day taken out to the Pisa back block.
My first time taking them over the hill with Jack McPherson I recall was in 1960. I had my horse and an old beardy dog, I thought at the time you couldn't get a better job than this.
As time went on it became too dangerous to drive the mob down to the grounds, because of the traffic, so we then had them trucked, it sure made our job easier. After the trials they were taken up through Peter Mortons and then driven over the top.
Tenure Review spelled the end of the wether flock on Pisa with the loss of the back country to DOC. I think the last time they were used was about 2005. Ninety years of supplying sheep to the Lowburn Trials came to an end.
Our family has been involved for many years with the Lowburn Dog Trials. My Uncle Don McMillan was President 1925 - 28. W.G. MacMillan was President 1928 39 40 41 45 46 a total of 15 years. I was President 75 - 77 and Shane 2000 - 02. My father was made Life Member in 1937, cousin, Grant McMillan 1988, myself 1993 and Jacky MacMillan 2004.
Jacky and Shane were both Ground Stewards for many years and I spent 40 years as shepherd as well as Ground Steward with Russell Brown for a good number of years.
I recall a well-known character from Tarras who had spent most of the day in the shade of Charlies Bar and came out to run his dog in the yarding. He whistled and roared and bellowed instructions to the dog and then asked "can anyone see the bloody dog he has run out of my sight" the dog hadn't run at all it was sitting under the Judges caravan. Another time Grant Cochrane (Cocky) and I were mustering the grounds after the day had finished, coming to the top of the hill at the Long Pull we saw the sheep were still down in the yards, not really knowing if the liberators were taking them or we were to pick them up, Cocky then saw a piece of paper under a rock a few yards away and said "they have left us a note" and grabbed the rock, unfortunately for him it wasn't what he thought it was and boy did he stink for a while.
There were many good times to be had in the earlier days before drink driving came into force.
I would like to congratulate the Lowburn Club on achieving its 100 years.
Lowburn Collie Club, as written by Don Clark Bannockburn
My memories of the dog trailing was back in the 1960's when there were large entries of men and dogs. From Bannockburn there were plenty of men around, all from the Stations and properties such as, Cairnmuir, Mt Difficulty, Hawksburn, Ben Nevis, Carrick, Kawarau, and Happy Valley.
All of these properties had at least a couple of men and there were also other casual men about the district. Entries from Bannockburn numbered at least 40 to 50 dogs. The boys from Bannockburn had their own competition to see who could score the most points at the trials.
Frank Clark (my father) was a keen dog man in those days. He had a course set up at Carrick to train his dogs. When we came to Bannockburn in 1961 the Lowburn dog trials were run by Stan Glassford, Bill Brown, Colin Henderson, Russell Brown, Ron McIlroy and Frank Clark. These were just some of the men who helped at the trials and have since passed on. Bart Clark also contributed a lot and Tom Clark was secretary for many years.
Sheep from Northburn had to be rounded up in the morning and driven across the Lowburn bridge each day. They were taken back each night
Lowburn was the first trial to start the season so many competitors turned up there. They almost drunk the pub dry on many occasions. They almost wrecked the hotel with their shenanigans. Some of the things they did were to have carpet races where they would race each other under the carpet from one side to the other, This resulting in the carpet being torn in half!
One year two very drunk competitors stripped naked and had a fight down by the river using stock whips to see who was the toughest.
Another time they burnt all of a competitors clothes. The next morning when he got up there was nothing to wear. He got an overcoat, went to Cromwell bare footed, to buy some new clothes from Jolly's Menswear. He found out who did it, bought $2500 worth of clothes, signed the docket in his name and sent it to his accountant.
The cook shop was run by the local women in the community. All of the food was donated and prepared by the wives of many of the local competitors and farms. Winnie Glassford for many years took the money for the meals. These days it is hard to find the women who want to help with the cook shop, therefore the cost to the club is high to provide the food. They could take a lesson or two from the hardworking women of those days.
The Lowburn trials has had dwindling numbers for years now. I put this down to the fencing around a lot of the larger properties. In the 1960s we had around 30 dogs on Carrick, now we have about 12.
Lowburn Collie Club by Tom Gilmore
I came to Wanaka road in 1952. I went to meetings which were held in the Lowburn Pub. The first meeting I attended finished at 3 am. Being new I said to the President Mr Bill Brown 'I am afraid to go home at this hour' So Tom Clark, the secretary, wrote the following note. 'That I was detained at a very late hour because of a lot of business', signed Tom Clark, secretary. Stan Glassford was V President, When Edith met Winnie Glassford later she tackled her husband about it. He said he didn't remember signing the note, so he got a little lecture.
Bill McMillan gave me a ride home one night and I said to him 'Bill you are using a lot of road', Bill said 'By heavens, I am still between the poles aren't I'
Often on a Sunday some young fellow would be asleep under the willows on Class IV after enjoying the trials.
Some people took a week off for the trials. Mainly the senior members.
Trials were held in May but the Northburn Sheep were used and driven over the Lowburn Bridge and then returned at night over the bridge in the dark. Quite often there were hassles on the bridge so it was decided to use Pisa wethers. They were kept at C R Perriam's farm, now Pisa Moorings. Then because of fog in May it was decided the date was shifted to the last weekend of January. That was fine except it was the hot weather. During the hottest part of the day the competitors disappeared to the Lowburn Pub.
Someone would be sent to send them back and quite a few of the messengers failed to return.
One very hot day, brothers Bob and Jack Aubrey, Jack McKenzie and Bill Hazlett decided to have a swim at Kings Island. Hazlett got out first and got his stock whip and wouldn't let the others out of the water. Someone said 'Why don't you rush him' Bob said 'You try it in the nick against a man that can use a stock whip. I have a welt on my back that will take a month to heal. Just the same they are all good friends.
The wethers, after the trials, were taken to Lowburn Station and next day taken over the hill to Pisa back block.
Wally Higgin never competed but did a sterling job keeping water up for smoko's and making sure the water was always boiling. No power then and coppers were used.
There was a chap from Tokaraki who had 7 dogs and he said 'I will eat my hat if anyone can yard those sheep' they haven't been yarded for 4 years'. Luckily I was able to get quiet sheep and yarded them. I remember this because I received 4 pounds – a lot of money then, half a week's wages.
There was no drive, just pull and yard. Snow Glassford went out and yarded the next lot. Crossbred sheep were used on Class II
When the dam came up, Mr Perriam approached the MOW and received a donation of material to build the bar with Don Colling supervising. The Cook Shop building was built by club members
Dances were held on the Saturday night and we danced the Military two, Destiny, Two step, Three step, Lancers, Alberts and finally a waltz after which we joined arms and sang Old Lang Syne. Ice-cream was ordered for the children and much enjoyed. The older ones ran around in the dark shoving ice-cream down each other's necks.
I gained a lot from the Lowburn Collie Club over the years and would like to wish the club all the best for the future. These are just a few of the things I remember and any mistakes made I do not mind being corrected.
J T Gilmore.
CLARK & MORTON FAMILY
The first dog trials started with the usual banter of who had the best dog while standing around having a beer I imagine.
My grandfather, Jack Clark, seemed to have attended trials in Wanaka and Lowburn and we are unsure of the Wakatipu.
There is a cup for a win at Wanaka but by far the best results I can find are at the first Lowburn trials when he had a 1" and dead heat for 2 in both class 1 & 2 as well as a 3rd in Class 2. Of interest to me is that he also received a 3rd place in Class 3 with a dog called Nell. The same dog that had achieved 2nd place in both heading events, you very rarely see this these days.
Apart from the fact the Jack Clark owned the land for a short while, where the dog trial grounds are now, it seems he had very little to do with the dog trials after saying that he had felt dog trials were becoming too professional. His two sons Bill & Ray Clark had no real interest in dog trials but were very involved in tennis badminton and golf and had both played rugby. It was even suggested by their Uncle Tom, on the 50th anniversary of the dog trials that they shouldn't be playing golf and should be attending the dog trials instead.
Jack Clark's grandson, Peter Morton (who is the writer) has been involved since early 70's. During this time I have liberated for the young farmers club, been a ground steward for grounds 1, 2 & 3, a shepherd, president and now life member.
During the Clyde Dam era of the 80's and early 90's, I became really involved with relocation of both buildings and grounds of the Collie club. At that time and still are very thankful in having some very good acquaintances who were employed by the project. Things were done which otherwise may not have happened.
As a club we should never lose sight of the contribution of those who supply sheep for the trials, The Middleton's, Macmillan's and latterly the Davis's.
It was with great sadness that we lost one of the country's best class 3 hunts and had to shorten class 1, to make way for the new lake and road and in my opinion it has never been quite the same.
Throughout those years Maree Morton also did a lot work for the Collie club in the role of organizer or helper in the kitchen. At that time there were up to 300 competitors and staff to be fed over a three day period. Without the morning and afternoon teas and a healthy lunch, the days would have been extremely long, as we usually started between 7.30 and 8am and were still going 12 hours later. That was also without a few drinks at the clubs and Lowburn hotel afterwards
As a liberator the days could become quite tiresome and on a few occasions it has been known for both liberators to fall asleep after partaking in some refreshments or losing interest altogether later in the day and letting sheep out of the holding pens. With usually hot January days, you look forward to getting off the hill and down to the dredge ponds for a swim. One of the roles that I seemed to acquire was the droving of the Pisa wethers from V J Brown's yards to the Deep creek hut in Pisa's back block. It would take most of the morning and there were usually two of us on a couple of V Js horses. The Pisa wethers had had a full week of being chased around after being mustered, driven down the Wanaka road to Perriams paddocks, three days of dog trials and then to Baden partridge's paddock down by Lowburn Creek, around to VJ's on the Sunday and then up the Pisa hut on Monday.
Jack Clark's great grandchildren, Brad & Lauren, have also been involved for most of their life with the Collie club, and in particular Brad Morton. First as wee nippers running around and helping the Cook shop, then as liberators in both hunts. Brad has gone on to be committee member, ground steward, for class 2 & 3 as well as serving a 2 year term as president. Brad's wife and children, Marnie Emma & Lachie are now also involved in supporting the Collie club.
In closing, seeing the club go from the heady heights of the 80's with 220 hunts and 180 head's in each event, over the three days to what we have now, has been sad but I,m afraid it is a sign of the times. With the change of land use and tenure review, a loss of the high country, lack of sheep numbers and farmers in the area, I feel the outlook is bleak, so we should enjoy a hundred years celebration for all the happier times, memories and the people who have been involved in the club over that time.
Jack and Claire Davis,
Jack and Claire came to farm At Lowburn in 1976. With Jacks history of dog trialling with his father Alan Davis, a regular competitor at Lowburn, He soon became involved with the Collie Club. Over the years he has been event II steward, President, delegate to the Otago Centre, and in charge of finding Judges each year. Also at times being assistant secretary (minder) to Claire at National Championships.
Jack has competed successfully with wins and placing's at trials throughout, Otago, Southland, North Otago and Canterbury, and regularly competing at the South Island and New Zealand championships.
Also we have travelled widely judging throughout the South Island, and the most important being the South Island at Oxford and the New Zealand at Gisborne.
Claire has never been interested in running dogs, but had a part in administration being secretary of the Otago Centre for 16 years and now of Lowburn. In that time has managed
4 South Island and 3 New Zealand Championships.
Jacks first dog 'Dick' came from a dog that was brought here from Wales for the expo at Wanaka. this dog was left with George Nichol and a pup was given to Jack. This line came from a champion dog called Winston Cap, well known for his 'gather'. This ability continues in his dogs today.
As always our family has been involved with Warren Sandy and Terry all liberating, and Sandy and Claire taking a turn in the cook shop and as clerk. Old Dick Restal always recalls Terry giving him a drink of water on a hot day.
STAN GLASSFORD.

Stan Glassford was a strong member and competitor in the 50s and 60s. He was President from 1962 to 69.

I have his certificates which show he was successful at Championships in the Otago and North Otago Centres.

He first won a place at Heriot with Floss 3rd in Class I Otago Champs 1950.

He had a lot of success with a heading dog called Snow in the 60s
He was placed in the New Zealand and South Island Championships at Lowburn 1962. He was 6th in Class II with Snow in the South Island and 3rd in the
New Zealand event.
In 1965 he was placed 2nd Class two at the South Island Championships at Wakatipu.

He went on to have success throughout the 60s with heading dogs call
Snow, Joy, Queen and Chappie, and with Scot a huntaway.
was the last to edit Lowburn Collie Dog Club
on Jul 9th, 2014 at 3:02 PM
created Lowburn Collie Dog Club
on Apr 23rd, 2014 at 6:13 AM